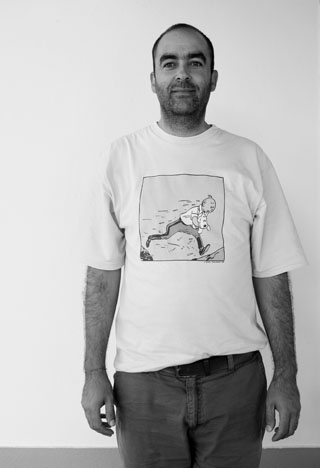 © Luís Vasconcelos
website do autor
António Carrapato
António Carrapato, born in Reguengos de Monsaraz in 1966, started his career in the 90s working as a photographer for Portuguese newspapers, namely and mostly for the Público newspaper in Alentejo.
In parallel, Carrapato develops his creative work where he builds a temporality of meaningful chances with a particular sense of humour.
In 2009 he participated in Estação Imagem and is a founding member of this project.
Carrapato has been involved in various initiatives and events, to name a few, the Foto Fest in Copenhagen 2013, the RISO exhibition at EDP Foundation Lisbon 2013, the Grupo de Évora exhibition at Pequena Galeria in Lisbon in 2013.
In 2015, he produced the exhibition "Na' vejo" at Fábrica Braço de Prata in Lisbon, and in 2016 the "1013 Anos" exhibition in the Évora Museum.
Both in the rural territory of Alentejo and in urban international contexts, he engages his skilful observation to create a visual universe where the relation between man and the surroundings is brought up to reveal subtle ironies or absurd coincidences.
PORTFOLIO