EXHIBITIONS ESTAÇÃO IMAGEM
FREE ADMISSION
\ MAY 29—JUL 24
AWARD CEREMONY
JUN 12 / SAT / 16.OO
ANTIGA IGREJA DO CONVENTO SãO FRANCISCO
Note:
Exceptionally this year the jury will deliberate remotely using a online platform developed by ESTAÇÃO IMAGEM.

Seating at Antiga Igreja do Convento São Francisco will be limited in accordance with the health authority's guidelines.

The winner of GRANT ESTAÇÃO IMAGEM 2021 Coimbra will receive a 600€ Fujifilm coupon in addition to the grant, and the winner of the PICTURE OF THE YEAR will also receive a 400€ Fujifilm coupon, both sponsored by Fujifilm.


The classes can be accessed in the link available in this newsletter, at Estação Imagem website, Instagram and Facebook page. Follow the link to join each class at the scheduled day and hour.
OPEN CLASSES
LIVESTREAM VIA ZOOM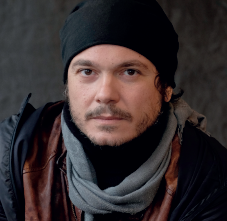 © DR

FABIO
BUCCIARELLI
THE ROLE OF PHOTOJOURNALISM DURING COVID-19
Photographer, journalist, and author. Robert Capa Gold Medal, World Press Photo, Best of Photojournalism and POYi Photographer of the Year 2019.
8 JUN
11H30
LINK ZOOM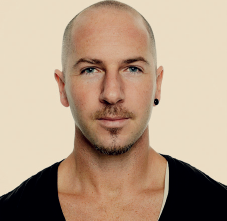 © DR

MAGNUS
WENNMAN
FINDING NEWS WAYS OF TELLING STORIES
Five-time winner of Photographer of the Year, won more than 70 awards, including six World Press Photo Awards in different categories.
8 JUN
14H00
LINK ZOOM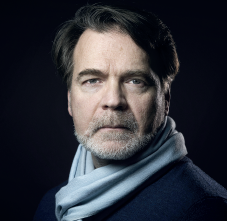 © JOEL SAGET

PIERRE
FERNANDEZ
THE FUTURE IS VISUAL
Agence France-Presse (AFP) Multimedia Content Manager.
9 JUN
11H00
LINK ZOOM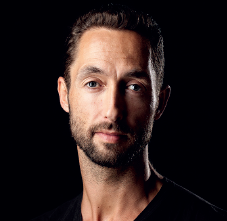 © DR

THOMAS
BORBERG
GET INSPIRATION. 10 GOOD TIPS FOR THE EDITORIAL PROCESS
Photo Editor-in-Chief, Politiken, Denmark. World Press Photo jury member and teacher of photojournalism at the Danish School of Photojournalism.
10 JUN
15H00
LINK ZOOM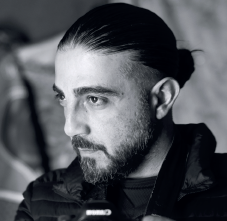 © MUHAMMED MUHEISEN

MUHAMMED
MUHEISEN
MAKING A DIFFERENCE
A National Geographic photographer and a two-time winner of the Pulitzer Prize.
11 JUN
11H00
LINK ZOOM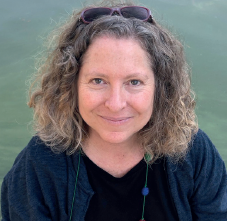 © FRANÇOIS VENTER

JODIE
BIEBER
BETWEEN DARKNESS AND LIGHT. FINDING YOUR PHOTOGRAPHIC VOICE
Photojournalist, has won numerous international awards including the Premier Award at World Press Photo in 2010.
11 JUN
15H00
LINK ZOOM
SALA DA CIDADE
CÂMARA MUNICIPAL DE COIMBRA
TUE TO SAT
13H00—18H00
Ø SUN, MON AND HOL
FABIO BUCCIARELLI
WHEN EVERYTHING CHANGED
EXHIBITION SPONSORED BY FUNDAÇÃO JOANA VASCONCELOS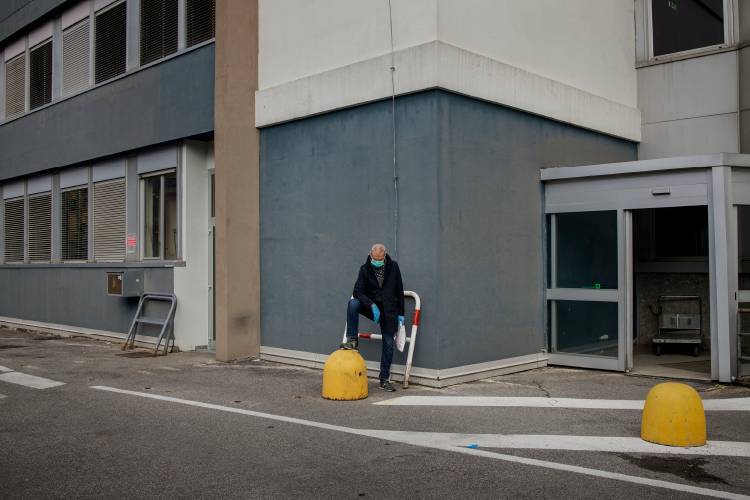 FABIO BUCCIARELLI Photographer, journalist, and author known for his work on conflicts and the humanitarian consequences of war. He has spent the last decade covering the world's major events, creating images that reflect his commitment and empathy with the story, and providing information on human rights. In 2013, his coverage of the Syrian war was recognized with the Robert Capa gold Medal. bucciarelli has been the recipient of several awards including at the world Press Photo, the Lucie Impact Award, VISA d'Or News Perpignan, Prix bayeux-Calvados for war Correspondents, Yannis behrakis Award, best of Photojournalism, and the getty Images Editorial grant among other prizes and nominations..He was named Photographer of the Year 2019 by Pictures of the Year International. Along with his ongoing personal projects, bucciarelli is a frequent contributor to the The New York Times for which he made a thorough coverage of the Covid-19 pandemic in its epicenter in Italy.He also has been working for leading publications. bucciarelli's artworkhas been shown in several collections and his photographs wereexhibited in museums and galleries worldwide and frequently in International Art Fairs. Alongside Fabio bucciarelli's projects as a photographer, he has written dispatches for national and international newspapers and magazines, and also a book on the armed conflict in Libya. More recently, he also started to work as a curator and artistic director.
"COVID-19 CHANGED NOT ONLY OUR LIVES BUT ALSO THE WORLD AS WE KNEW IT. SINCE EARLY 2020 I HAVE OFTEN RETURNED TO THE EPICENTRE OF THE PANDEMIC WITH THE AIM OF CREATING A BODY OF WORK NECESSARY FOR OUR COLLECTIVE AWARENESS AND THAT COULD ALSO STAND AS AN ICONOGRAPHIC MEMORY OF OUR TIME."
FABIO BUCCIARELLI
when the coronavirus was sweeping across northern Italy, Fabio bucciarelli gained exclusive access to Red Cross workers who were going door to door around bergamo, the region in Italy that was hit the hardest by the epidemic. Red Cross teams were checking in with those infected and were tasked to take the most serious cases to hospital. It was a devastatingly intimate view of the way the coronavirus was tearing apart family after family in the close-knit region. working in a hazmat suit, with goggles, gloves, and a respirator, bucciarelli traveled with the RC teams in an ambulance and got to enter the bedrooms, living rooms and kitchens of families ravaged by the virus. The simple surroundings he encountered belied the significance of what bergamo had become: at that time identified as the ground zero of the coronavirus epidemic worldwide. when children said their goodbyes to mothers, fathers and grandparents who were hoisted onto dollies and taken away, no one could know if it was for the last time. bucciarelli's intimate work did not end at the front door, however. He visited overwhelmed intensive care wards and hospital corridors were covid-19 patients lined up. His connection with the families was so intense that, in the most tragic cases, they allowed him to accompany them to the cemeteries in the pared down yet poignant ceremonies that only the closest relatives could attend. bucciarelli was with them.
© FABIO BUCCIARELLI FOR THE NEW YORK TIMES
CENTRO CULTURAL
PENEDO DA SAUDADE
TUE TO SUN 14H00—20H00
Ø MON
AFP
AMERICAN DEMOCRACY TESTED
WITH THE SUPPORT OF AGENCE FRANCE-PRESSE [AFP]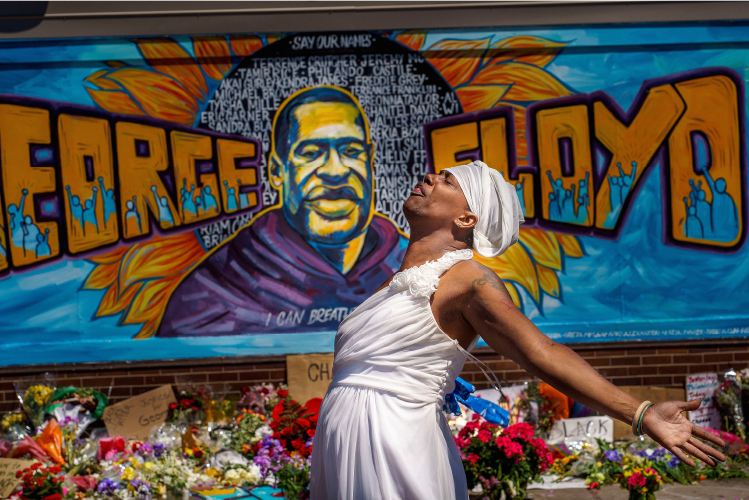 America's political divide may be nothing new but it was thrown into sharper focus than ever before by a string of violent protests during one of the most turbulent 12-month chapters in the nation's history. Right-wing militias protesting the coronavirus lockdowns with their loaded assault rifles; black Lives Matter activists massing on the streets after the death of george Floyd; Trump supporters rampaging through the US Capitol after the president's election defeat. The causes may have been different but the anger and sense of injustice burned every bit as strongly each time. Even though the right to bear arms in enshrined in the constitution, images of gunmen armed with assault rifles screaming in the face of police officers guarding Michigan's state legislature are still jarring to behold back in April, 2020. The local governor, gretchen whitmer, was to later become the target of a botched kidnap plot by right-wing extremists as an act of revenge against lockdown measures. Restrictions on public gatherings failed to deter millions from taking to the streets over the summer after Floyd, a 46-year-old black man, died of asphyxiation as a white police officer knelt on his neck in the city of Minneapolis. Some of the most dramatic protests came in washington DC on June 1 where police sent a peaceful crowd running with pepper spray and teargas as President Donald Trump walked to a nearby church. The police however found themselves outnumbered at the other end of Constitution Avenue on January 6, 2021, when Trump's supporters stormed the US Capitol right after attending a rally in which the outgoing president told the crowds that Joe biden had "stolen" power from him in November's presidential election. As the dust begins to settle, the exhibition American democracy tested, featuring images from AFP photographers from across the United States, is an opportunity to reflect on how the world's most powerful country can sometimes buckle under the strain of its internal divisions.
CHRISTIAN OTTON | AFP
MOSTEIRO DE SANTA CLARA-A-VELHA
TUE TO SUN AND HOL 10H00—18H00
Ø MON
WILLIAM DANIELS
FADED TULIPS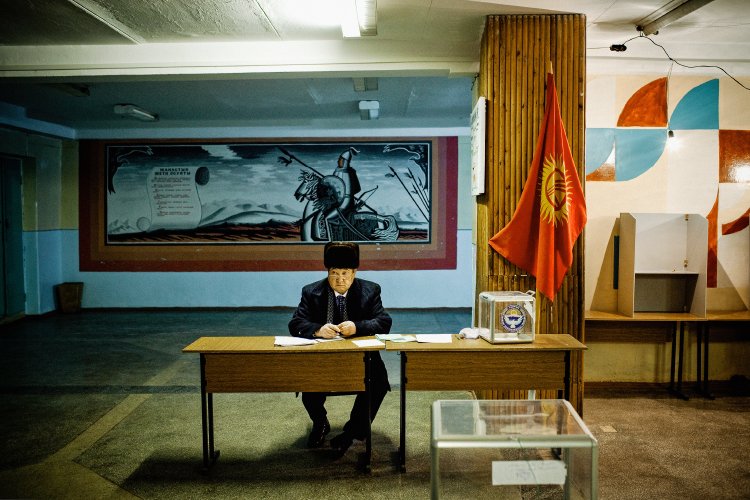 WILLIAM DANIELS is a French photographer. In 2007, he won the Lagardère Foundation Young Photographer grant to develop a personal project in the young and fragile Republic of kyrgyzstan. The result was exhibited at the Fait Et Cause gallery in Paris, and self-published in the book, Faded Tulips (2012). Aside from his personal projects, william Daniels contributes, as a photojournalist, to National geographic magazine, the National geographic Society and Time magazine. Daniels has won several international awards, including two world Press Photo, a Visa d'Or Perpignan, and the Tim Hetherington grant.
A JOURNEY THROUGH KYRGYZSTAN'S FRAGILE POST SOVIET DEMOCRACY. 2007-2010.
I remember seeing images of kyrgyzstan for the first time on the television in March 2005. There were scenes of excited Asian- looking men rushing toward an imposing Soviet style administration building. They entered the building, vandalizing, even pillaging, all they found. Then, on the roof, a scene of men proudly brandishing a flag. This event was called the "Tulip Revolution". One could read in the press that the kyrgyz people, in their struggle for social justice, had just overthrown the authoritarian and corrupt regime of President Askar Akayev and had replaced him with kurmanbek bakiyev. It was only a few years later, when the small country was out of the limelight that I got to visit kyrgyzstan for the first time. Aided by a grant for young photographers, I set out to discover what the Tulip "Revolution" had actually achieved – western media narrative was that of a democratic transition in the country. This so-called revolution seemed to have been no more than a power grab. The elections were rigged; the media censured, perhaps even more than before; political opponents were arrested. kyrgyzstan was considered one of the 15 most corrupt countries in the world. Today one speaks of the Tulip Revolution as a coup d'état disguised as a popular revolution. I continued to visit the country in the course of several trips. I was confronted with the growing instability which eventually led to the bloody riots of April 2010. It was a new revolution, perhaps a bit more authentic this time. The nepotistic bakyiev was overthrown in his turn and found asylum in belorussia, as had Akayev five years earlier. A period of widespread unrest followed during which Osh, the major city in the South became the stage of ethnic anti-Uzbek pogroms. Some claimed that what the country was going through was no more than the painful apprenticeship of independence.
WD
EDIFÍCIO CHIADO
TUE TO FRI 10H00—18H00
SAT AND SUN 10H00—13H00 / 14H00—18H00
Ø MON AND HOL
WITH THE SUPPORT OF CANON PORTUGAL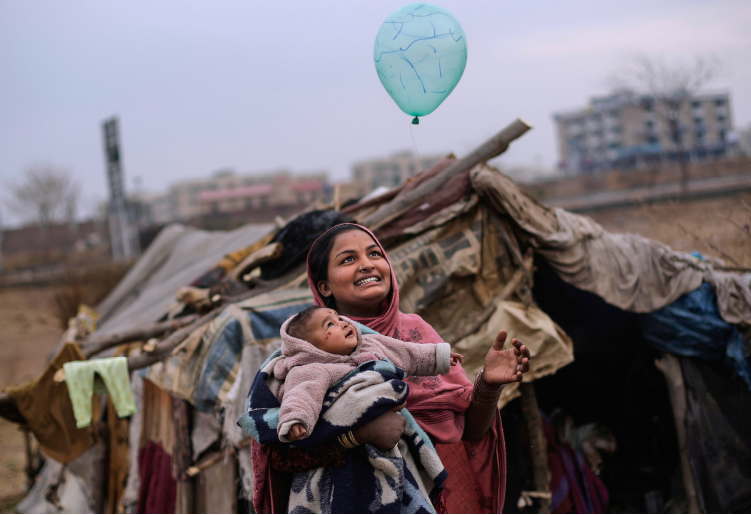 MUHAMMED MUHEISEN is a world- renowned photographer and a two-time winner of the Pulitzer Prize. A National Geographic photographer, and founder and chairman of Everyday Refugees Foundation, a Dutch nonprofit organisation. He is also a global Ambassador for Jordan Tourism board, Royal Jordanian Airlines, and for Canon. Named in 2013 by Time Magazine as best wire Photographer. Since 2001 he has documented major events around the world, in Asia, Europe, the Middle East, Africa and the USA. Muheisen has been documenting the refugee crisis in different parts of the world for over a decade.
"Nobody leaves their home unless they are forced to leave their home, and that is what I try to show in these images." There are so many untold stories and so many voices that were never heard. It is my responsibility as a photojournalist to be out there searching for these untold stories to document and share them with the world. If something happened and was never documented, it is as if it never existed. I have been searching for this for a decade and a half of my life. when I am telling their stories, I am also telling the story of my life. They are part of my life as I am part of theirs. For over a decade I have been documenting the refugee crisis in different parts of the world, their daily life and the challenges that refugees and internally displaced people are faced with. behind the word 'refugee' or 'internally displaced person' there are people who were forced to leave their homes, hopes, memories, and families behind to seek a new, safe home. with my photographs, I aim to bring awareness and change stereotypes and raise the voice of the people that I am photographing. It is never just a picture, it is a voice, it is a testimony and it is a message from a child or an adult from whatever part of the world to another part of the world, that lives forever. My focus is on children as I personally believe that children are the true victims of conflicts, they do not get to choose we they are born or the circumstances surrounding them. Children all over the world seek the same things in common, they seek fun, they seek joy and they seek happiness - no matter where they are. by portraying each child, instead of being called 'the Afghan or the Syrian refugee boy and girl,' they will be called and remembered by their names and ages, by their individual hopes and dreams. I do not just pass by and take pictures, I spend time, I invest and hope to make a difference, big or small – we have to start somewhere. It is not a 100m sprint, it is a marathon. Throughout this last decade I learned a lot from the youth, they are the most affected by armed conflicts. I was taught by them to feel fortunate and blessed, to appreciate being safe and healthy. I have witnessed hope through their eyes and hope is all they have. VOICES, is a selection of images captured over a decade and documenting the daily life and the challenges faced by refugees and internally displaced people in different parts of the world. It shows their journey while searching for a new safe home and settling down in their new environments. Images from Pakistan, Afghanistan, greece, Hungary, Croatia, Serbia, and Jordan.
MM
GALERIA DA CASA-MUSEU
BISSAYA BARRETO
TUE TO FRI
11H00—13H00 / 15H00—18H00
SAT 15H00—18H00
Ø SUN, MON AND HOL
Screening of
"FATIMA'S DRAWINGS"
documentary film directed by Magnus wennman / 5'35''. A Syrian child tells her distressing journey from the city of Idlib to Sweden. Taking us through the child's drawings, the documentary is a delicate and deeply moving account of the difficulties and hardships faced by refugees.


best Digital Storytelling Award Visa D'or Pour L'image 2016 and world Press Photo 2016 Digital Storytelling Contest Short Form 1St Prize.
MAGNUS WENNMAN
WHERE THE CHILDREN SLEEP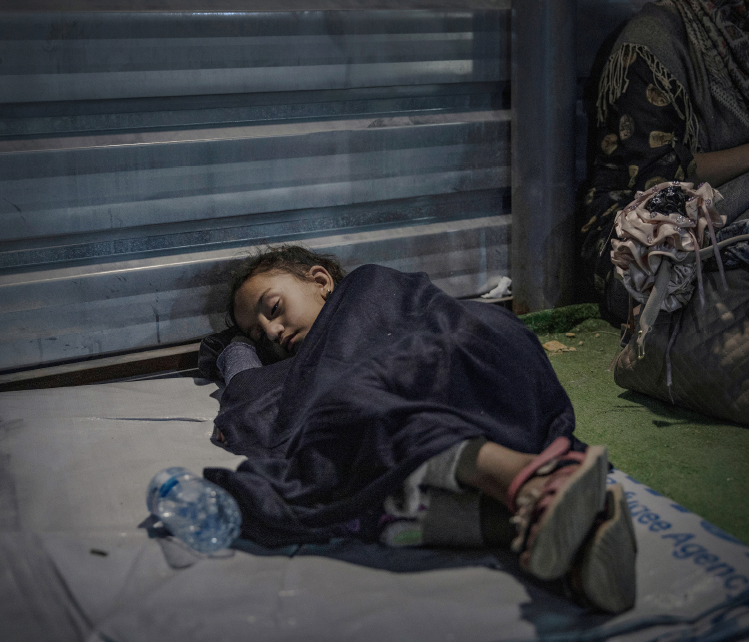 MAGNUS WENNMAN born in Sweden in 1979, Magnus wennman has been working as a photojournalist since the age of 17 when he started his career with a local Swedish newspaper, DalaDemokraten. Magnus has worked in more than 80 countries, covering everything from the US election to the refugee crisis in Africa, Middle East and Europe. The five-times Photojournalist of the Year has won more than 70 awards, including six world Press Photo awards, all in different categories. He was named by the Red Cross as its Journalist of the Year for 2017. He is now gaining a reputation as a filmmaker as well as a photographer. His short film Fatima's Drawings, where a now safe refugee child reflects on her escape through her drawings, won the best digital storytelling award at Visa D'or in Perpignan in 2016. He has had numerous exhibitions, with his most recent, where The Children sleep, having toured 17 countries around the world. He has also exhibited in the Capitol building in washington DC and in the United Nations building in New York. In 2018 he was named Newspaper photographer of the year by POYI and had his first cover story in National Geographic magazine.
One of them misses their bed. Another, their doll with the dark eyes. A third dreams of a time before the pillow was an enemy. The war in Syria has been going on for nine years. 2016 was the worst year so far for the children. At least 652 children were killed. More than two million children have been displaced within or outside the country. They had to leave their friends, their homes, and their beds. Some of these children have been invited to show where they now sleep, as all that once was no longer remains.
MW
CAFÉ
TEATRO ACADÉMICO
DE GIL VICENTE
MON TO SAT
14H00—22H30
Ø DOM
FELIPE DANA
DEATH AND DENIAL IN THE AMAZON
WITH THE SUPPORT OF ASSOCIATED PRESS [AP]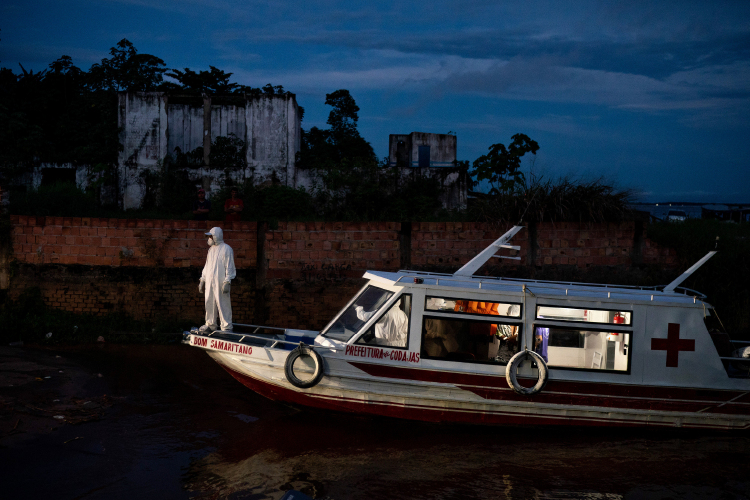 FELIPE DANA was born in Rio de Janeiro, brazil, in 1985. In 2009, he joined the Associated Press and decided to dedicate himself solely to photojournalism, focusing on the social upheaval in his native city in the run up to the 2014 world Cup and 2016 Olympics. Dana also documented urban violence in Latin America, the Zika epidemic, the migrant crisis in Europe and Africa, and conflicts in the Middle East. His work has received a number of awards including world Press Photo, POYi – Pictures of the Year International and batam, OPC – Overseas Press Club, NPPA – National Press Photographers Association, CHIPP – China International Photo Competition, the Atlanta Photojournalism, among others. Felipe was also part of the AP teams of finalists for the Pulitzer in 2017, 2018, and 2019.
Manaus, the capital of the Amazon in brazil, is one of the hardest hit cities. According to official records, the country has lost more than 400,000 lives to the coronavirus. but in the absence of evidence proving otherwise, many families are quick to deny the possibility that covid-19 claimed their loved ones. This means that the official death toll is likely a vast undercount. As ambulances rumble across Manaus and backhoe loaders open new rows for more graves, the muggy air of this city in the banks of the majestic Amazon River feels even thicker than usual with such widespread denial. Manaus has seen nearly triple the normal number of deaths in April and May of 2020. Doctors and psychologists point that denial at the grassroots might be due to misinformation, lack of education, insufficient testing, and the conflicting messages from the leaderships. Chief among the sceptics is President Jair bolsonaro who has repeatedly called covid-19 a "minor flu" and claimed that concerns over the virus were overblown. In July, however, he himself became part of the statistics joining millions of brazilians infected with the coronavirus.
FELIPE DANA | AP
GALERIA PINHO DINIS
CASA MUNICIPAL DA CULTURA
MON TO FRI 09H00 — 19H30
SAT 11H00 — 13H00 / 14H00 — 19H00
Ø SUN AND HOL

2020 WINNERS



JOSÉ SARMENTO MATOS
LEONEL DE CASTRO
ANA BRÍGIDA
RUI DUARTE SILVA
JOÃO PORFÍRIO
SEBASTIÃO ALMEIDA
GONÇALO FONSECA
CARLOS FOLGOSO SUEIRO
ANTÓNIO PEDRO SANTOS
RODRIGO ANTUNES
ESTAÇÃO IMAGEM 2020 COIMBRA AWARD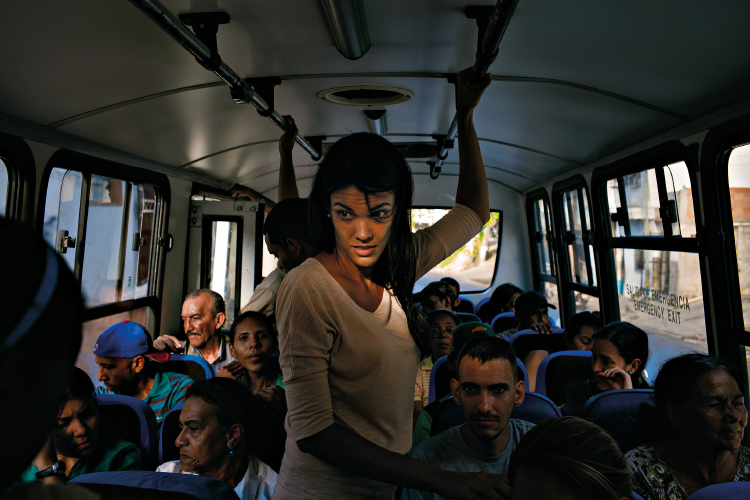 To make visible the 'Invisibles', as in the «without Light» story, or the blind athlete, or the depopulation in the centre of Portugal, or the young- matadors hopefuls' dreams of glory, and over ten more individuals who will stay in our collective memory thanks to this encounter and to the passion of all these photographers who believe in what they do. It is always a privilege to discover and to help to showcase future talents even if some of them need to improve.
PATRICK CHAUVEL
CHAIR OF THE JURY
JULY 2020
Photojournalist José Sarmento Matos was the top prize winner of the 11th edition of the ESTAÇÃO IMAGEM AWARD which distinguishes the best of photojournalism. Matos documented the drama of a Portuguese-Venezuelan family in their migration back to Portugal, with images captured in Madeira and in the Caribbean country then facing a humanitarian crisis. The announcement of winners and award ceremony took place on the 18th of July at the Convent of São Francisco in Coimbra, an event hosted by the City Councillor for Culture, Carina Gomes, the jury chair, Patrick Chauvel, and the head of Estação Imagem, Luís Vasconcelos. For Photography of the Year, the jury chose a photo by Leonel de Castro, a photo that is part of his work on the devastation in the city of Beira after the passage of hurricane Idai in Mozambique. The photojournalist from Global Imagens also won the prize in the Contemporary Issues category and also an honourable mention in the Daily Life category whose first prize went to Gonçalo Fonseca. In the other five categories, the international jury awarded photojournalists Rui Duarte Silva / News, Ana Brígida / Art and Entertainment, Carlos Folgoso Sueiro / Environment, António Pedro Santos / Portrait Series, and Rodrigo Antunes / Sports. The Grant Estação Imagem 2020 Coimbra was awarded to photojournalist Ricardo Lopes with a project proposal on Portugal's inlands and its rural traditions and popular knowledge that are on the verge of oblivion due to an aging and scattered population. The jury chooses the main winner of the ESTAÇÃO IMAGEM AWARD from among all the photo-reports submitted in the seven different categories. In the 2020 edition we had nearly 400 submissions, including reports and entries for the Photography of the Year category and a substantial increase of entries for the GRANT ESTAÇÃO IMAGEM Coimbra. For the first time meeting via online platforms only, the jury of the 11th edition of the ESTAÇÃO IMAGEM AWARD was chaired by Patrick Chauvel, the oldest active war reporter having covered more than 20 conflicts worldwide. The other members of the jury were Brent Stirton (seven World Press Photo awards, six Lucie awards, Visa d'Or and two United Nations awards), Felipe Dana (The Associated Press photojournalist and a Pulitzer finalist in 2017, 2018 and 2019), and João Silva (from the Bang Bang Club who documented the end of apartheid in South Africa, and a New York Times reporter.)
SPOTLIGHT ESTAÇÃO IMAGEM 2020 COIMBRA AWARD
JOSÉ SARMENTO MATOS
ABANDONING THE VENEZUELAN DREAM
This is the story of a Portuguese-Venezuelan family and their journey back to Portugal. They left Venezuela amidst the recent humanitarian crisis leaving behind their beloved ones and their identity, all to restart their lives. Until recently, Venezuela had been the home for more than half a million Portuguese and Portuguese-descendants. Many of these migrated in the 50s and 90s attracted by the prosperity brought by the oil boom in that Caribbean nation. A majority, however, has been returning to the Portuguese Island of Madeira where they have family ties. The report was shot in Venezuela and Portugal hence it covers the two-sides of their life-stories.
JSM
GALERIA PINHO DINIS
CASA MUNICIPAL DA CULTURA
MON TO FRI 09H00 — 19H30
SAT 11H00 — 13H00 / 14H00 — 19H00
Ø SUN AND HOL

MANUEL ROBERTO
SNS – COVID-19: GENERAL CALL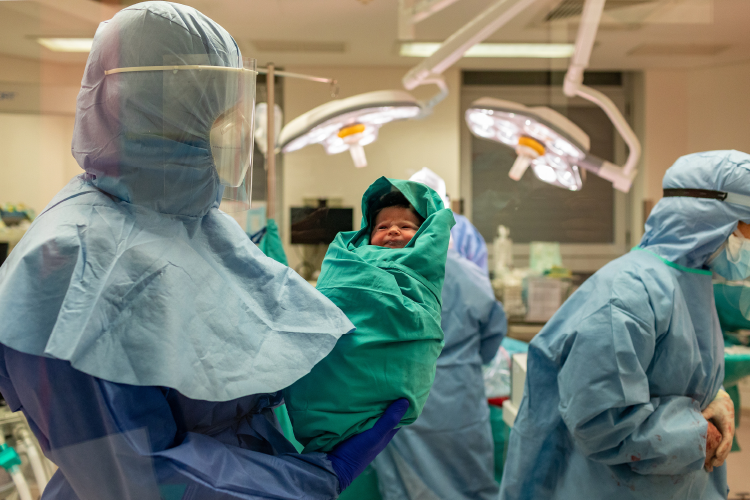 MANUEL ROBERTO Photojournalist. Current photo editor at Público and staff reporter at this same newspaper since 1994. born in Mozambique in 1965, Roberto began his career at the age of 20 working for INDE, an educational publisher, and also as a permanent collaborator for the weekly Domingo. In Portugal, he worked for Jornal de Notícias and o Primeiro de Janeiro. winner of the gazeta Multimédia Award in 2013 with "Filhos do Vento", a work on the colonial war and the African children left by the Portuguese ex-combatants, co-authored by Catarina gomes, Ricardo Rezende, Dinis Correia, and Andreia Espadinha. He also won the gazeta de Imprensa Award in 2014 with the work "A guerra que Portugal quis esquecer" co-authored by Manuel Carvalho, a series of historical reports in Northern Mozambique about the tragic confrontation between the Portuguese military and the german troops during the First world war. He participated in several collective exhibitions and also individually at Cinema São Jorge in Lisbon, and at Espaço MIRA FORUM Artes Performativas in Porto.
As with the national health system (SNS) in general, São João Hospital in Porto was temporarily turned into a covid-19 hospital. In the initial phase and at the peak of the pandemic the Hospital hosted by far the largest number of covid-19 patients in the whole country. Its departments had to be quickly adapted to respond to the enormous challenge faced by the Portuguese health system. A collective and multidisciplinary effort where doctors, specialists, nurses and all other professionals left aside traditional roles and came together as a team with one mission: to rescue everyone from the clutches of a novel and unpredictable disease. For months, the gigantic unit was turned into a fiction-like setting. A quasi-apocalyptic scenario with patients in induced coma, staff in full protective gear, face shields, gloves and caps, and intubated patients connected to machines through which their blood was circulating to feed the failing lungs. A relentless push 24/7. At the centre of it all, a small device that sucks the blood and oxygen before returning it to the patient's body. Men and women seemingly lost to an infection that took the world by shock. The vast majority of cases, however, survived without sequelae. An unexpected and challenging scenario to all health workers, without prior notice nor time for specific preparation. Swiftly, the SNS had to regroup. Too much pressure? "Not at all. Medical doctors are made for this. we're on top of it", summed up Roberto Roncon, Intensive Care coordinator, São João Hospital.
JOSÉ AUGUSTO MOREIRA
EXhIBITIONS IN COIMBRA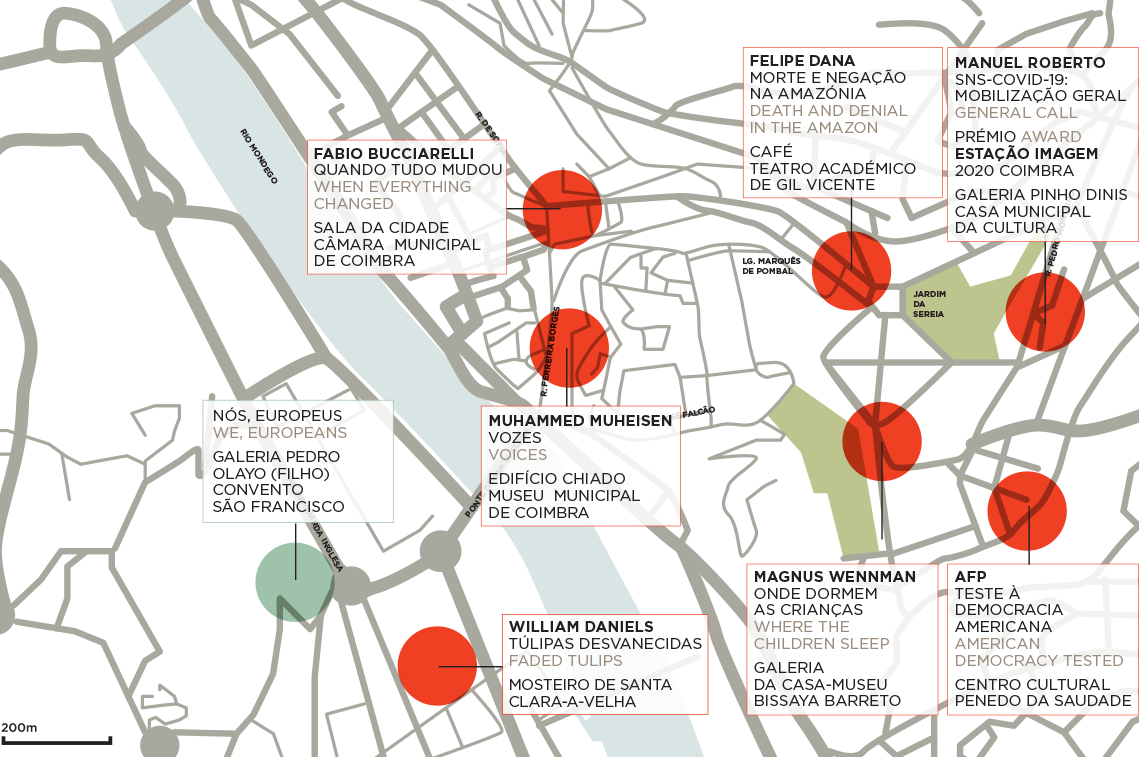 CREDITS
HEAD DIRECTION
Luís Vasconcelos
COORDINATION
Luís Vasconcelos
and
Susana Cruz
DESIGN [COMUNICATION AND EXHIBITIONS]
Susana Cruz
PRIZE ADMIN
José Manuel Ribeiro
WEBSITE
Paulo Cruz
TEXT EDITING
José Augusto Moreira
PHOTOGRAPHY
Luís Barra
VIDEO
Abel Rosa
TRANSLATION
Vera Baeta
PROOFREADING
Susana Baeta
AWARD SOUNDTRACK AND INSTAGRAM
Henrique Malha
PHOTOGRAPHY POST-PRODUCTION
José Francisco
PRINTING [CATALOGUE]
Norprint – A casa do livro
PHOTO PRINTING [EXHIBITIONS]
Pedro Leite
OTHER PRINTING
Imprevistas